Biography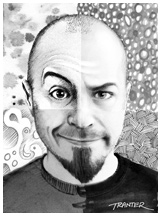 I have always loved drawing and creating, and from an early age I knew that I wanted a career that had something to do with art. Much of my childhood was spent drawing and painting pictures and cartoons, designing characters, and constructing models. Much influence was drawn from movies and comic books, primarily British weekly 2000AD. At this early age, I also became fascinated with cinema special effects and design, particularly the work of ILM, Ralph McQuarrie, Jim Henson, Brian Froud, Stan Winston, Rick Baker, and Ray Harryhausen. Knowing that this field required knowledge in many subjects, throughout my education I tried to equip myself with a broad understanding of art, graphic design, film, photography, make-up, and computers. I ultimately graduated with an honours degree in Art and Design.
After leaving University, I considered numerous career options, but I always kept returning to my first love, illustration. A large proportion of my recent freelance work has been for the role play gaming industry, which I've discovered is a great outlet for the type of art I love to make. Though much of my illustration and graphic design work is created digitally, my heart lies with using real media and I would describe myself as primarily a traditional artist.
I still draw a lot of influence from movies, and so I try to evoke a cinematic feel in my illustration work, with emphasis on composition, mood, and light. It's always my goal to make the fantastical appear believable, while trying to avoid the clichés associated with fantasy art. I try to apply that same attention to detail to every type of art and design work I produce.
I'm a keen photographer and model maker, and enjoy learning and experimenting with new creative skills. Along with artistic pursuits, my other great passions are movies, music, and books. I love all kinds of movies, from mainstream blockbusters to obscure art-house, and I enjoy reading cinema-related literature. My music taste is eclectic, embracing everything from Abba to Zappa. I also love to read music literature, history, biographies, comic books, and graphic novels.
Influences & Inspirations
Jim Henson, Ralph McQuarrie, Ray Harryhausen, 2000AD, Frank Frazetta, Brian Froud, Rick Baker, Ron Cobb, Arthur Rackham, Jean "Moebius" Giraud, H. R. Giger, Syd Mead, Stan Winston, Masamune Shirow, Ralph Steadman, Chuck Jones, Alan Lee, John Howe, Mike Mignola, Brandywine School, J. W. Waterhouse, Alphons Mucha, Gerald Scarfe, Georges "Hergé" Remi, Drew Struzan.
The films of Ridley Scott, Stanley Kubrick, Steven Spielberg, Terry Gilliam, George Lucas, Sergio Leone, John Carpenter, David Lynch, Jean-Pierre Jeunet, Alejandro Jodorowsky, Hayao Miyazaki, Guillermo del Toro.
The music of Tom Waits, Captain Beefheart, Frank Zappa, David Bowie, Sigur Ros, Tool, Boards of Canada.